103 McLennan St, Mooroopna VIC 3629
Monday - Friday: 8:30am - 5:15pm
Saturday: call for availability
Sunday & Public Holidays: CLOSED
At the Causeway Veterinary Clinic we work on an appointment system. We understand your time is valuable and so we plan for your visit. We also understand that our patients can become anxious and stressed in the waiting room environment and therefore we try to minimise waiting times.
If you have an emergency situation arise, please give us a call so that we can be prepared for your arrival and have a member of our team ready to help as soon as you get to the clinic.
During your pets consultation we will take the time to discuss your concerns and assess your pets health, complete a thorough physical examination and prescribe any medication that may be required. For a more serious or complex issue, further diagnostic testing may be required or your pet may need to be admitted into the hospital for further treatment.
At the Causeway Veterinary Clinic we take the time to explain and educate our clients about their pets illness or condition and consider all aspects including the owners and patients needs when devising the best treatment plan for your pet. We understand that there is no one size fits all when it comes to the health of your pet. Patient follow up and after care is extremely important to the team at The Causeway Veterinary Clinic.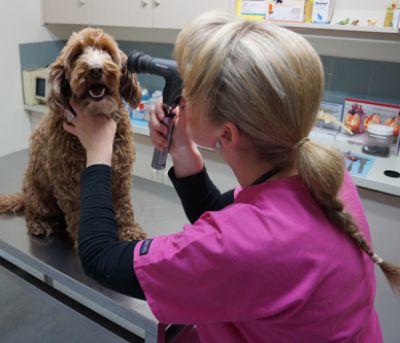 Contact Us today!
Book an appointment for your pet by giving us a call.